Greetings, all!
Now, I know what you're all thinking.
Mem, it's already October 5th! You should have had this post out a week ago!
I know, I know! I've been too busy with school and other activities to write a post, so now that I'm sick I actually have time to blog. *realization of what I just said hits me* Darn. I have to wait till I'm sick to post?!?!
Ahem, anyway...on with the post!
September's Songs:
See What I've Become by Zach Hemsey.
This song is one of my favorites right now! It's so epic. When I listen to it, it reminds me of the X-Men or Superheroes.
Like a Dog Chasing Cars by Hans Zimmer and James Newton Howard from The Dark Knight.
A song that makes me want to wear a black cloak and mask. Awesomeness!
Tessa by Steve Jablonsky from Transformers: Age of Extinction.
It's s-so beautiful!!! I think I'm going to cry.
September's Movies:
(Disclaimer: I watched both of these movies on VidAngel [a filter system for movies], so I am not recommending them as I know there were inappropriate things in them. Just F.Y.I. ;-))
THESE WERE BOTH AWESOME MOVIES!!!
September Books:
The Screwtape Letters by C.S. Lewis
Artemis Fowl by Eoin Colfer
I wrote a book review for Artemis Fowl on my blog Ink and Page Reviews. If you want to check it out, click
here
to read it. XD
September Events:
Church Family Camp: I had so much fun! We hadn't been on a trip for over two years. Swimming, playing music around the campfire, biking, eating tons of ice cream, it was awesome!
Starting School: I'm in 10th grade this year. A sophomore! *faints from shock* Anyway, I am doing my last year of Greek and also started One Year Adventure Novel. That has been amazing so far. :-D
LoTR Day: I celebrated LoTR day with a photo shoot, several blog posts, and an apple pie. If you haven't read my LotR Day posts, click
here
,
here
, and
here
to read them. ;-D
New Pet: Meet Smaug the Greatest and Chiefest of Calamities.
Isn't he adorable?!?!?!?!?!
Gif of the Month of September: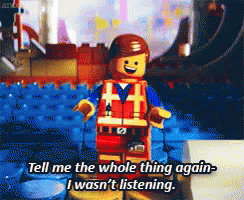 How I felt most of the month. XD